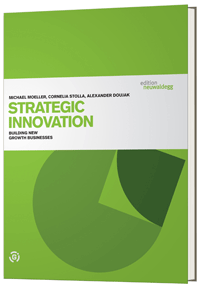 Building New Growth Businesses
A growing number of companies is facing an unprecented increase of competition. The consequences are: price wars and a commoditization of offers, products and services. How can companies find new ways for future growth within such an environment facing disruptive innovation?
Developing and implementing new business models implies searching and explorating new ways to create value. Our experience: conventional strategic projects and tools produce conventional, me-too, strategies.
This book provides a framework for strategic innovation: ideas, processes and interventions for building new growth businesses in established organizations. Case studies from SAP, Lufthansa, Palfinger and One illustrate the typical challenges in different industries.